Hey everyone! How are you all doing? This is a review of a book I read…four days ago I guess…that looks like very long ago😂.
Title: When You Were Everything
Author: Ashley Woodfolk
Genre: Contemporary, Fiction, YA, LGBT, Romance
Publication Date/Publisher: March 10th, 2020 by Delacorte Press
Everything started to shatter when another girl heard Layla singing and decided to let her join the Chorus Girls….
Cleo has been living the last month without her best-friend and she has been trying to forget Layla. She has been going to every place in town, saturated with memories of Layla and she has been trying to make new memories over there. The problem is, deciding to erase a person from your life is easier said than done. Cleo has been assigned to tutor Layla and after drifting away from each other, this is the very last thing Cleo wanted.
Lately, Cleo has been making new friends and Dom, a new boy has been catching her attention and she has been developing a fierce crush on him. Unfortunately, memories and the past never fade away….and memories of Layla always come back to haunt Cleo's mind…
About the Author: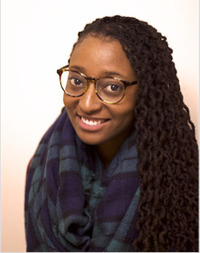 Ashley Woodfolk has loved reading and writing for as long as she can remember. She graduated from Rutgers University and worked in children's book publishing for over a decade. Now a full-time mom and writer, Ashley lives in a sunny Brooklyn apartment with her cute husband, her cuter dog, and the cutest kid in the world. Her books include The Beauty That Remains, When You Were Everything, and the Flyy Girls Series.
[Picture and text taken directly from Goodreads]
My Ratings: 4/5
My Thoughts:
This book was….a huge collection of feelings. It had everything, sadness, happiness, anger, guilt, regret…
What I liked is that our main character, Cleo also had flaws and it wasn't only because of Layla that their friendship broke, it was also because of her. It made it more realistic and not the type where it-is-all-your-fault-we-are-not-friends-anymore. I couldn't love Cleo any more than that. She was such a sad and happy person and at times you can't help but feel sad yourself.
Layla was a character whom I sometimes hated and at other times, loved. You see, in some ways, you just can't blame Layla and Cleo isn't totally innocent either because she also did some bad things towards Layla and vice-versa.
I have never read any book which talks about a perfect friendship which slowly shattered particle by particle until all what is left is dust and you seriously don't know whether to just throw it away because there is no way to fix it or to keep it all in a jar until you find an impossible way to fix it.
That is, it talks about that other side of a broken-up friendship, not only the anger towards the person but the sadness blended into everything and how you miss a person but in some ways despise that person as well, even if there is no way to bring it back to normal.
At some point in the book, there are moments you may cry but yet manage to hold back the tears so don't read this book at the dining table for example if you are an emotional person or people might ask you why are you blinking so much. I say it again, this is an emotional book and captures the reality behind every broken friendship out there. The book feels so real as if the book was gifted some emotions for itself.
At the end of the story, I'm not sure if I am happy or sad. The ending was a mixture of both of these feelings. It was beautiful. I'm definitely recommending this book for anyone who wants a light read to cheer you up or to sadden you because this book can do both and I myself haven't decided if I'm happy or not.
My Favourite Quote:
So see you all until the next time!
-Hermione
P.S. I am going to read The Hollow Places by T. Kingfisher next!