Another 500 page book! Took me 3 days to finish…I guess I forgot to say hi at the beginning but never mind…
Title: The Invisible Life of Addie LaRue
Author: Victoria (V.E) Schwab
Genre: Fantasy (not really though because it is set in our world but it has some magical elements), Fiction, Romance, Historical Fiction
Publishing Date/Publisher: October 6th 2020 by Tor Books
Adeline LaRue lives an almost invisible life. She was born in the 1700's in France when a simple moment in the early night before her wedding changed her life. She made a deal with the God of the Dark, in return of her soul, she will obtain her freedom. No one in their right minds would do such a deal but Addie was desperate…She could long as she liked until the day she got tired of living and will then have to surrender her soul…her curse or rather her bargain doesn't end here either, people won't remember her the moment they turn their heads and lose her out of their sight.
Till now, (2000's), nobody has been able to remember 300 year old Adeline…until the day she enters a bookshop she had visited the day before and a young man remembers her…The thing Addie longed for the most, ever since she made that deal, to be remembered.
About The Author: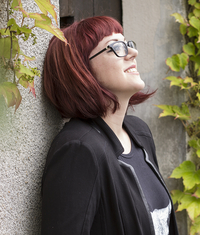 Victoria is the product of a British mother, a Beverly Hills father, and a southern upbringing. Because of this, she has been known to say "tom-ah-toes," "like," and "y'all."
She also tells stories. She loves fairy tales, and folklore, and stories that make her wonder if the world is really as it seems.
[Picture and text taken directly from Goodreads]
My Ratings: 4.95/5
My Thoughts:
When I read the synopsis, I thought it would be something like The Picture of Dorian Gray (I absolutely loved this book…like one of my favourite classics) but it takes a whole new turn. Alright, let me tell you, you either like this book or don't like it at all. There, now I told you we can continue…
There are so many things which can be said about this book. But if there is one main thing in my opinion is that the book mostly feels like a journey rather than a journey with a final destination. And adding that the journey was deeply and darkly beautiful. The writing had so much meaning and a depth that makes it like no other book I have ever read before. I can say that Schwab has really put her heart out while writing this book. Her writing style is….breathtakingly amazing and oh my god, deep! It conveys so many emotions.
So many things happen in the book of course and we get to read about what happened back in the 18th century and now, that is in the 21st century. Addie was a great character with her ups and downs and equal stubbornness but if there is the character that gets you hooked the most is Luc, the God of the Dark. His name isn't really Luc because he doesn't really have a name. Luc is the name Addie gave him. Just imagine a God which doesn't look very much like a God and actually takes the shape of a dark curly haired man with deep green eyes just for Adeline.
Aaaaah, now we come to the part where I begin to ship Addie with Luc! I.Am.Not.Supposed.To.Be.Doing.This. Why did I ever begin with shipping Addie and Luc because now that idea cannot get out of my head. All throughout the book, I was like….ya know what I mean.
I do recommend this book to anyone. I haven't read such a deep and dark book for a very long time. I think I could recommend it only for you to run your fingers under each line (I read the ebook😔) and savour the deep meanings and just breathe it in. It really has a unique magic of its own.
Well, I have written enough for this post and I ought to be off right now. I just finished the first chapter of Mexican Gothic and I am dying to know more.
See you later!
Hermione
Have any of you read this book btw? I WANNA BUY IT THE BOOK!