You know what I was thinking…Lisa's solo isn't yet out but I am giddy already. I can't wait to listen to her solo. I mean…just imagine how the whole internet will break and go ABSOLUTE NUTS when her solo will be released…just try to think about that…
And there is me thinking that Jisoo's 'Hey Boy' is the most iconic line in Whistle. Like…the song has one of the greatest beats!
Instead of talking about BlackPink or any other singers when this is supposed to be a review, let us just get straight to what this post is SUPPOSED to be about.
---
Title: The Scorpio Races
Author: Maggie Stiefvater
Genre: Fantasy, Fiction, Mythology, Romance
Category: YA
Publishing Date/Publisher: October 18th 2011 by Scholastic Press (originally published in September 18th 2011)
---
I think rust red is actually a beautiful colour you know.
---
Every November, the Scorpio Races begin. One of the most dangerous races where you either live, make it to the finish line or die. Riders ride the water horses, horses that come out of the sea every November and if captured by humans, made to race, if the humans are able to hold the water horses long enough before they start tearing people into pieces and leave you dead.
Sean Kendrick is just a 19-year-old boy who takes part of the races every year, won four times and has still managed to stay alive. He rides on Corr, believed to be one of the fastest water horses. He rarely shows his feelings but he has an ambition. Win the race, get the prize money and buy Corr for himself, who currently belongs to the owner he works for.
Puck Connolly is just a girl with loads of freckles, ginger hair and who is an orphan who looks after her little brother, Finn and sometimes her older brother, Gabe. When Gabe wants to leave, she has no choice but to participate in the races with her normal mare, Dove and hopes to win the race…when she has almost no chance against the insanely powerful water horses. And she is the very first woman…to participate…and people don't like a women in a race where the blood of men rule.
---
About the Author:
New York Times bestselling author of The Shiver Trilogy, The Raven Cycle, and The Scorpio Races. Artist. Driver of things with wheels. Avid reader.
All of Maggie Stiefvater's life decisions have been formed by a desire to leave a mark, resulting in spray-painted cars, sharpie-covered computer printers, ink-splattered walls, and stories told in books, in magazines, and on stages. Maggie Stiefvater lives in the middle of nowhere, Virginia with her husband, kids, and a bunch of fainting goats.
[Picture and text taken directly from Goodreads]
---
My Ratings: 4.5/5
---
My Thoughts:
There are a few reasons why I picked up this book…here they are:
It has mythical horses and I ADORE horses (mythical or not)
The word SCORPIO caught my attention (ignore the fact that I am a Scorpio over here)
The word RACES also caught my attention (I haven't read many books about horse racing)
I had a feeling about this book that it wouldn't disappoint me..
It had a cowboy vibe to it, that I couldn't ignore.
Well, this is a slow-paced book but…damn…was it beautiful? Yes. It started slow at first and slowly picked up pace. The thing that I love about this book is the way the characters aren't randomly thrown into the book but introduced, slowly and in such a way that you get to know them.
Let us just TALK about our two main characters, Sean Kendrick and Kate Connolly (Puck). At first none of them knew each other but as soon as they are introduced in the book…well…quite predictable right?
The whole concept of the book was great. At the start of November, the Scorpio Races start. The horse-riders of Thisby try to catch the water-horses (capaill uisce [plural]) when they emerge from the depths of the sea. These horses are extremely fast, bloodthirsty and are constantly pulled to the sea. They are very dangerous creatures and the simple act of trying to handle/ride them can cost your life. This is why the aspect of dying in Thisby is almost natural.
SEAN KENDRICK (Oh, it ended up in caps lock…I definitely didn't mean this but nevermind) horse-lover, expert in horses, and seems a bit like a very cool cowboy-guy. He as a way with horses and can manage the capaill uisce unlike any other.
Puck Connolly…you are probably the stupidest and the bravest person I know. I CANNOT believe you wanted to participate in the races but I admire your indifference to what other people think. I don't think I would have ever been able to do what you have done though…
Now…the CHEMISTRY between those two..
It was just so asdfghjkl but I wish it was longer. Like…you know…and there was a moment where it was just so abrupt and one moment where I had to go hide under the table and stop myself from jumping so high I'll crack my head on the ceiling or my parents think I am just the human-definition of weird-craziness. THIS SHOULD DEFINITELY NOT HAPPEN!!
There is so much to say but I will just end of messing everything up and spoil the whole book but I really ship both of those silly people together. (Wait…did I just call them silly, I just cannot believe myself).
Just go and read this if you like freckly people, golden grass in the afternoon, major cowboy vibes, slow-paced fantasy, horses and side-characters who are just the sweetest (do all characters that are named Finn are supposed to be cute or what??)
Well, I should better go now and prepare my other post which will be my review of The Midnight Library by Matt Haig but now don't go and tell everyone now…
BTW, I wanted to ask all of you something…do you think that it will be a good idea if I made a monthly post of memes related to all things bookish?? I mean, it was an idea that occurred to me during the night and I was wondering if I should do that??
I mean, I should probably just scoot out of here before the whole story of screen-time just decides to pop up..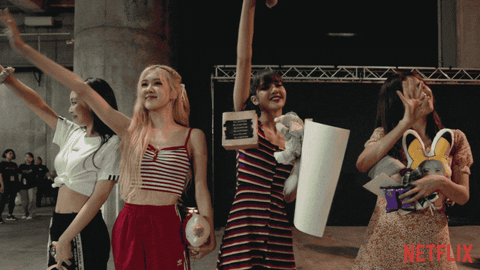 Why am I feeling a little mildly obsessed with gifs today? Sorry… had to include BlackPink in this post for no reason😂 They look really cute together🖤💜🖤.
hermione