Hi all people! Hope you are all doing very fine….and all the usual stuff. Well, this is a review of Sorcery of Thorns (it is uncommon to find a standalone fantasy novel because most of them are usually part of a series…). Well, I just realized that everyday it is someone's birthday. (Don't ask me how, but I am that sort of person who realizes obvious things out of the blue…).
Since, I have nothing else to say unless if you want me discussing soil particles with you right now but let's just go to the review.
---
Title: Sorcery of Thorns
Author: Margaret Rogerson
Genre: Fantasy, Romance, Magic
Category: YA
Publication Date/Publisher: June 4th 2019 by Margaret K. McElderry Books
---
---
This cover is one of the MOST BEAUTIFUL COVERS I HAVE EVER SEEN IN MY LIFE…and you know who drew this cover? Charlie Bowater! Her art is simply amazing. The green in the background is one of my FAVOURITE colours!! I think it is dark turquoise. Isn't this colour gorgeous??
Note: I have an obsession with greens especially dark greens, bottle greens, emerald greens, dark turquoise, dark teal….as long as the green is dark…
Also Note: I have an obsession with blues like midnight blues, royal blues, dark navy blues, dark grey blues…ya know, all dark blues…
---
Elizabeth Scrivener has lived in one of the Great Libraries for almost all her life. She has known the way the magic grimoires whisper endlessly on the shelves…the way they turn into wild monsters known as 'Maleficts' if they are damaged. She dreams of becoming a warden, somebody who protects the kingdom from the magic books can unleash.
All turns wrong when one of the most treasured book of the library turns into a Malefict and the Director of the library is found dead. When Elizabeth chases the Malefict and destroys it saving the whole town from wreckage by a savage book, she is accused for crime and is sent to face justice at the capital…with the sorcerers.
The sorcerer Nathaniel Thorn and his mysterious servant, Silas escort her to Ashcroft, one of the greatest sorcerers to face justice but Elizabeth senses that all things seem wrong.
Ashcroft doesn't seem to want to accuse her for anything but rather he wants her for information. Other libraries are being attacked, with dangerous books turning into Maleficts one by one. Can Elizabeth stop those attacks before things get much worse? Before the world tumbles down, unable to repair? With the help of Nathaniel and is demonic servant Silas, Elizabeth will have to find out all she can to find out what is causing all those attacks and if it isn't for something much greater than what the Earth can handle and cause a damage beyond miraculous repair…
---
About the Author: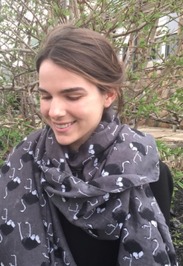 Margaret writes fantasy for young adult readers. She lives near Cincinnati, Ohio, and when she's not reading or writing she enjoys drawing, watching documentaries, making pudding, gaming, and exploring the outdoors in search of toads and mushrooms.
[Picture and text taken directly from Goodreads]
---
My Ratings: For the first time in a very long time, I am not sure what to give this book…just keep in mind that I have MANAGED TO CONVINCE MY BEST-FRIEND TO READ THIS BOOK! I am so happy!!! But I have to admit that she has started it a few days ago and SHE HASN'T EVEN YET FINISHED IT!
Like…excuse me…this book…I finished it in HALF A DAY and YOU tell me that…But maybe I have to understand…
I told her I am giving her ONE WEEK to finish this book. Come oooon!! It isn't very long! Like 450 pages…that isn't very much.
---
My Thoughts:
First thing: This book gives off major Slytherin vibes…and Hogwarts library vibes as well. This book SCREAMS Slytherin. AND MAGIC!
Elizabeth Scrivener was a character with a fierce passion for books (like all of us out there) and who is also an orphan who has been rescued by the Director and who lives in one of the Great Libraries since she was quite little. I think she is that sort of girl who would definitely choose books over friends. I wish I lived in a library…*sighs*
AND she is TALL! I mean, it is nice to relate to a character who chooses books over pretty much everything and who is tall.
I mean, I am 12 years (almost 13) and I am 168 cm…(that is around 5 feet 5 inches). WHY am I so tall?? It scares me to think how much will I grow…:(
Nathaniel Thorn…Thorn Nathaniel…*tries on the Sorting Hat* SLYTHERIN *almost immediately*. This sorcerer is pure Slytherin I tell you. Black hair with a streak of white, emerald robes (how much Slytherin do you seriously have to give off Nathaniel?), a lot of sass, dark past, deep friendship with his servant Silas. Pretends he doesn't care about Elizabeth…and he calls her SCRIVENER?? Like, why?? Here is an example but I guess it is kinda cute though haha.
Oh my god Nathaniel…I can't believe it.
Silas…..white hair, yellow eyes, clawed hands, very short, extreme amount of sass when it comes to Nathaniel. He is a highborn demon who comes from the Otherworld (not telling more about this:) and who serves Nathaniel. He is my favourite character and without him in the book, well, it wouldn't even have existed then. Here is a a paragraph from the book:
I love you Silas😂. Did I mention he always wears gloves and can turn into a fluffy cat with yellow eyes and who calls Elizabeth 'Miss' almost all the time.
The story was way much more original that I thought. It combines magic, grimoires, demons, Otherworlds, sassy people almost perfectly. It has libraries, Slytherin vibes, magic, Silas (I cannot imagine the book without him).
It touched my heart, especially the ending; it caught me so hard I was turned into an emotional tangle of emotions. I never imagined the ending to be this way and it really did catch me off guard. I think this has goes to my favourite books of all time. It is a book I definitely recommend so go read it. It isn't a part of a series so…why am I feeling weird right now? I want to buy the book and hug it.
Just go read this book. You don't know how happy I was when I told my best-friend to read the book and she listened. I forgive her though for no finishing (she started it last week??) it but at least she started it.
I think that is all for today. So see you all bookworms with another post!
Love, hermione.
P.S. I haven't yet started any book yet because I still haven't gotten over this book because we had a lot of tests this week and last week and I am so happy I only have Physics test next week! Duh, too many 'weeks' I guess haha.